Snack Packaging Material - Snacks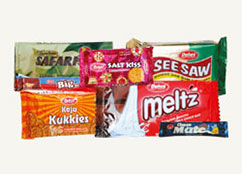 Common Structure
Pet / Met Pet / Poly
Pet / Met BOPP
BOPP / BOPP
BOPP / Met BOPP
BOPP / LDPE / Met Pet / Poly
Special Features
Excellent Machinability
Moisture Barrier
Seal Strength
One's lifestyle is incomplete without Snacks. It was at the dawn of the 20th century that the Americans and their deep-rooted fondness for snacks that transformed not just the Snacks Industry but also the Snacks Packaging Material Industry into one of the most thriving industries. The 1930s saw a number of fascinating changes taking place including the development of better packaging materials and transport that helped push the popularity of snack foods like popcorn, potato chips, corn chips and candy.
Over the years, there have been number of remarkable developments in Snack Packaging Material Industry. Today's snack makers call for packaging materials that combines versatility with the ability to keep snacks fresh for days even as it languishes on showroom's shelves. Modern packaging materials should not only be futuristic but also be capable of producing attractive packaging that stays implanted in shopper's mind for days. An ideal Packaging material should be not only light and resilient but also strong enough to withstand the unpredictable vagaries of nature as well as product shifting.
Innovative Snack Packaging Materials is what RM Converters offers, environment friendly materials that gives shape to attractive packaging with features like easy-open facility, hygienic, high barrier and enough shelf life, all of which on own can entice even the most health-conscious snackers to pick up the snack package. The other major highpoint that characterizes packaging materials from RM Converters are two layers, the inner one which provides for quality maintenance and the outer layer that allows for printing of visuals/graphics.
As the snack packaging materials industry evolves and progresses, new trends and new innovations become the norm. As one of the entities known for offering latest packaging materials, RM Converters aims to stay ahead and come up with packaging materials that can protect delicate snack products from medium term exposure to warm ambient conditions and withstand the unpredictable frequent cycles of exposure to controlled and uncontrolled climates.
Sweets and food snacks are as different as chalk and cheese, not just in appearance, but also in their appeal. To sustain the uniqueness that characterizes them, high quality packaging materials are required to help them stay fresh and healthy. The Packaging Materials from RM Converters uses innovative techniques to help facilitate the same and ensure that the charm stays intact even after days on the shelf or the warehouse.
The burgeoning growth of Packaging Materials has led to a survey report forecasting that the worldwide demand for quality snack packaging materials is all set to go past $30 billion in 2012. There will be growing demand for packaging materials that offers better convenience, portability and environmentally friendly features.
RM Converters is well placed to meet the expanding demand for quality snack packaging materials and has the right set of quality snack food packaging materials to cater to the needs of snack food manufacturers and sellers. We also offer Tea & Coffee packaging Materials.
DISCLAIMER: All photos are copyrighted by the publisher or photographer. We make no copyright claim to these photos.