Pharma Packaging Material - Health Care, Dairy Products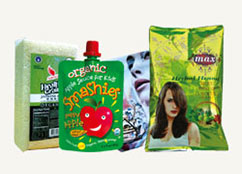 Common Structure
Poly
Pet / Poly
Pet / Met Pet / Poly
Pet / Alu Foil / Poly
Pet / Alu Foil / Pet / Poly
Special Features
Good Machinability
Seal Strength
One of the most vibrant industries, pharma packaging material is slated to increase and witness an annual growth of 5.5% and in 2014, the demand will reach $20 billion in the USA. Likewise the same demand is slated to ricochet across the world as countries tighten their quality norms and upgrade regulations and standards concerning infection control, barrier protection, drug dispensing errors, drug diversion and patient drug compliance. Concern for these and strict adherence to the same will result in the growth of high quality containers and related accessories and consequently, quality packaging materials.
Pharmaceutical pouches and pre-fillable inhalers will see more rapid growth as it will corner a greater market share than ever, all of it thanks to the forecast enormous growth of the number of asthmatic and allergic patients. New therapies and innovations that are regularly occurring in the research arena will be another driving force behind the growing demand for quality pharmaceutical packaging and consequently, equally phenomenal demand for quality pharma packaging material.
A good quality pharma packaging material from Pharmaceutical Industry must meet the criteria of product protection, quality; tamper evidence, patient comfort and security needs. RM Converters not only possess the capability to meet all of these requirements but also has the ability to set new trends that sets new benchmarks for the industry to follow.
High on innovation, RM Converters harnesses the latest technologies and leverages its proven competency to consistently provide a diverse range of quality pharma packaging materials for the medical, pharmaceutical and life science markets and address compliance and counterfeit concerns.
Good packaging needs good packaging materials that provide stability, adaptability and longer shelf life to the drug and the delivery system, further ensuring the safety and convenience of drug use. FMCG Packing products
DISCLAIMER: All photos are copyrighted by the publisher or photographer. We make no copyright claim to these photos.