Liquid Packaging Material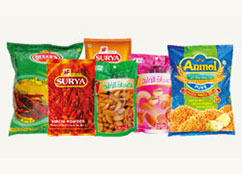 Common Structure
Pet / Poly
Pet / Met Pet / Poly
Pet / Nylon Poly
PA / PE
Poly / Poly
Special Features
Excellent Machinability
Moisture and Oxygen Barrier
Have you ever wondered as to how today's Packages for Ghee or Lubricant Oils or Pickles look so delicately pleasing, yet so sturdy? The products not only retain their potency even after many days on the showroom's shelf or in the warehouse but also maintain their quality in consistent dosage.
Manufacturers place emphasis on collaboration at all stages, from strategy to market positioning, and the name of the product to designing the identity and packaging design. Consumers today are finicky about the packaging aspect as much as the product packaged within it. They prefer liquid packaging material to be not only pleasing in looks but also want a package that is easy to hold and easy to carry and most importantly, easy to fill in the glass or container.
Delicate items like Ghee, Oils, Lubricant Oils, Liquor and Pickles because of their semi-liquid nature need air-tight, durable and leak proof packaging like stand-out pouches or spout pouches that help to prevent oxidation and moisture and maintain the flavour, aroma, freshness and above all, purity of the items for long periods of time.
RM Converters offers world class liquid packaging material like stand-out pouches but also Co-extruded multilayer blown film that is today widely used in the packaging of milk, edible oil, shampoo and for packaging of some of ready to eat snacks. The packaging materials offered by RM Converters are generally made of high molecular high density & low-density polythene film.
The liquid packaging material supplied by RM Converters are not only fascinating that make it a source of attraction in the packaging world, but are also leak-proof, easy to handle, easy to carry along, easy to dispose of, easy to maintain and above all, ensure that the products nutrients and natural taste remain intact for a longer period of time. Available in variety of designs, they are environment friendly as well and are known for their strong resistance capabilities in tough market conditions. Hygienically tested, the high material strength of our packaging materials also ensures the product's safety during handling & transit stages.
These liquid packaging material are available in PET / MET PET / POLY & PET / POLY. There is a healthy market for PET/BOPP and other flexible packaging materials that are growing at a phenomenal pace in India. And RM Converters is well placed to meet the surging demand and also ensure that the liquid packaging material not only keep the products fresh and free from bacteria & germs for long periods of time, but also ensure that they outperform your expectations.
DISCLAIMER: All photos are copyrighted by the publisher or photographer. We make no copyright claim to these photos.